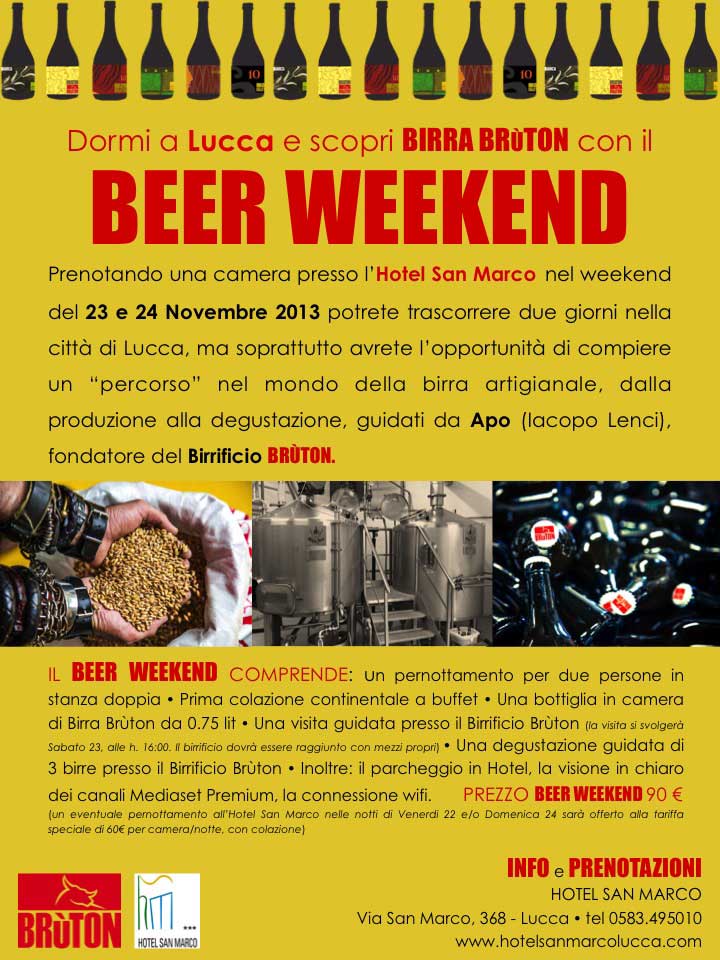 Stay in Lucca and discover Brùton Beer with a BEER WEEKEND!
Are you curious to know the secrets of a brewery , perhaps visiting a real cooking plant? Do you want to be guided to discover the aromas and tastes of craft beers? Have you ever been to Lucca and would like to spend a weekend in Tuscany?
On the 23rd and 24th of November , booking a room at the Hotel San Marco , you will allow you two days visiting Lucca with the opportunity to get closer to the world of craft beer . Apo (founder of the Brewery Brùton ) will be there to guide you on a tour of the brewery , including styles and modes of production of beer , finishing the course with a tasting of the products of Brùton .
If you love beer and you want to spend a weekend different from the usual, the BEER WEEKEND is made for you!!
The BEER WEEKEND includes:
An overnight stay for two people in a double room
Continental breakfast buffet
A welcome bottle of beer from the Brùton Brewery 0.75L
A guided tour through the Brùton Brewery
A guided tasting of 3 beers at the Brùton Brewery
Also: parking at the hotel, the clear vision of the Mediaset Premium channels , free wifi .
Price BEER WEEKEND € 90
NOTES:
The visit will take place on Saturday the 23rd , at 16:00
Kindly note that there is no transport availible to and from the Brewery (the distance 6.5 km from the Hotel )
A possible overnight stay at the Hotel San Marco in the nights of Friday 22 and / or Sunday 24 will be offered at the special price of 60 € per room / night with breakfast