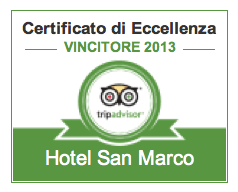 Hotel San Marco recently has been awarded the Certificate of Excellence by Trip Advisor!
With great pride we would like to share this exiting and wonderful results with you.
Receiving the award certificate of excellence means that we were able to satisfy our clients by putting our professional skills at their service.
Thank you to all!
And keep on writing on our Tripadvisor page!